GUIDED FOOD AND WINE TOURS IN PUGLIA
It has to be said, Puglia really is the heart of Italian cooking. If you're a big fan of Italian cuisine and are looking for a tour which will give you the opportunity to sample great wine and authentic food, you'll love our Puglia food tour. Throughout the generations, the Puglian 'mammas' and 'nonnas' have handed down some of the best home-cooking traditions and recipes in the entire world. The region is one of Italy's undiscovered food frontiers and is fast becoming one of the greatest food destinations in Italy.
Food tours are offered to groups with a min. of 4 people and must be booked far in advance. If you're a couple or a solo traveler, you can check our small group tours
The reason for that is very simple: Puglia's cuisine is based on the use of the most natural and freshest ingredients from both land and sea, avoiding processed foods as much as possible. And if you're wondering where all of these fresh ingredients come from, the answer to that is also very simple – Puglia. This unspoiled slice of rural Italy is an ancient, lush land with great climate conditions, incredibly fertile soil, an unbeatable array of fresh vegetables and fruit, 60 million olive trees, a long stretch of coastline with many possibilities for fishing, and remote uplands with vineyards and farms. The incredible produce from both land and sea is why the region is justifiably known as the 'California of Italy'.
DAY 1: LOCOROTONDO, FOOD STREET MARKET AND TRATTORIA PUGLIESE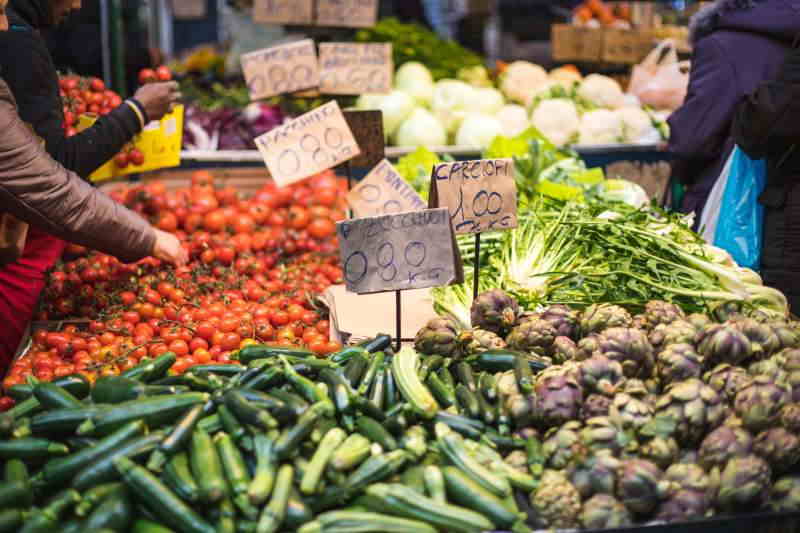 Day itinerary:
Pick up at your accommodation
Guided walking tour of Locorotondo
Food street market visit
Drive back to your accommodation
Genuine fruits and vegetables
The local people of Puglia love to use seasonal vegetables in their cooking. The land is indeed a true paradise of vegetables, cereals and fruit: broccoli rabe, artichokes, eggplant, tomatoes, all kinds of peppers, oranges, almonds, figs, and legumes like black chickpeas, fava beans and lentils. This is just a short list of the many products that are grown here in Puglia. When in Puglia, all it takes is just a short walk to one of the many street food markets which take place weekly in almost every town to discover the huge quantity of various fresh produce that come from the area.
If you want to discover the best Puglian food, there is only one solution: go where the Italians go! When it comes to food quality and cooking, Italians are probably the most demanding in the world. Puglia is still a relatively undiscovered tourist destination so most of the restaurants and trattoria are geared towards satisfying their Italian guests, meaning they have a very high standard of quality. The region is full of great trattoria and masserie (traditional farmhouses) and you'll find the best ones in the very remote and rural areas rather that the touristy towns, so it's a good idea to ask locals for good recommendations. Visiting a trattoria where the locals go will be a great experience for you.
Whatever your culinary tastes or dietary requirements, Puglia has something for everyone. Whether you're a seafood lover, a pasta fan or a vegetarian, the area is a true gastronomic paradise. Puglia also has some of the best pizzeria and trattoria in the country, serving pizza or calzoni stuffed with cheese, asparagus and many more combinations. You can find very traditional trattoria in Cisternino and Itria Valley area, many of them using wood-fired stone ovens.
DAY 2: OSTUNI AND OLIVE OIL FARM VISIT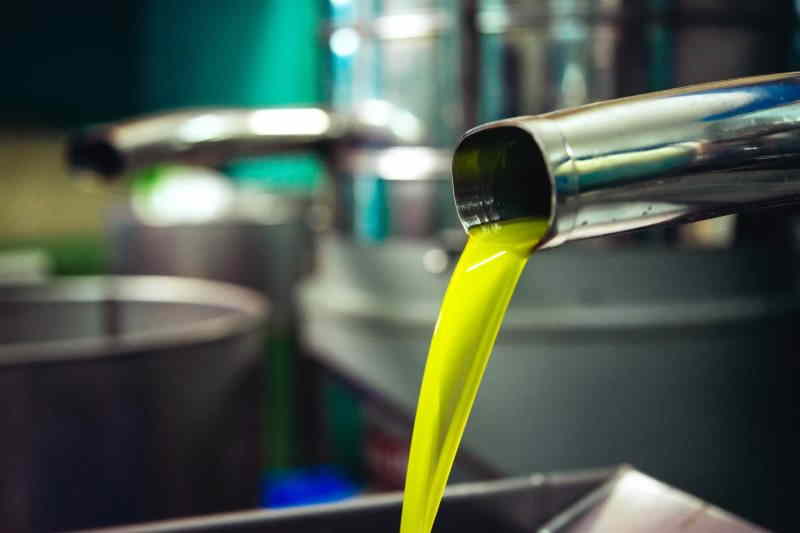 Outstanding extra virgin olive oil
The real king of Puglian and Mediterranean cuisine and the fundamental part of most of all local delicacies is, of course, extra virgin olive oil. You might think that Tuscany is the main olive oil producing region of Italy, but you'll be surprised to learn that almost half of the Italian production of 'green gold' comes from Puglia. We have many different kinds of olive tree and extra virgin olive oil is one of the things you'll definitely taste when on your culinary tour here. Visiting a family-run olive oil farm, seeing a typical mill and participating in an olive oil tasting is, for sure, one of the most interesting culinary experiences you can have here.
DAY 3: POLIGNANO A MARE AND SEAFOOD RESTAURANT
Day itinerary:
Pick up at your accommodation
Guided walking tour of Polignano
Lunch at a typical sea food trattoria
Drive back to your accommodation
Fresh seafood
With around 800 kilometres of coastline, it would be hard to imagine Puglian cuisine without the addition of fresh seafood and fish. All different kinds of seafood and fish are used in the traditional cooking style of Puglia due to its positioning along the Adriatic coast and its abundance of fresh water areas. Octopus, mussels, sea urchins and 'pesce azzurro' such as mackerel, sardines and anchovies are among the most beloved. When in Bari, Gallipoli or Trani, you might see colourful fish markets in the morning selling the freshest fish ever. Many local inhabitants also like to eat raw seafood, so if you want the true Puglian experience, you should try it too. Places like Savalletri, Monopoli and Polignano a Mare are among the best places to eat delicious seafood, fish and crudité.
DAY 4: LECCE AND WINE TASTING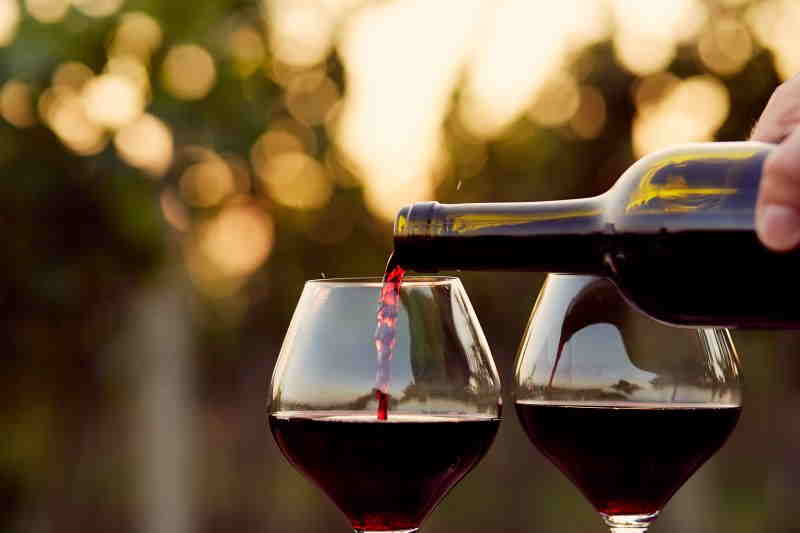 Exquisite Puglia wines
Puglia is not only famous for its food but also for its exquisite wine. Primitivo, Puglia's Zinfandel, is the most famous Puglian red wine, made using a robust and complex red grape that grows in the inland area between Bari and Taranto. It's a full-bodied wine with hints of tobacco, red fruit, minerals and pepper. The second most important indigenous wine is the red Negroamaro, made from grapes grown in Salento, the southernmost part of the region. Calcareous areas, limestone, clay, minerals, breeze from the sea and sun-drenched soil all contribute to the vast richness of the land. The heel of the boot is also a land of precious rosé wines, locally known as rosato wines, made from the very same vine grapes as Primitivo and Negroamaro. Besides red and rosé wines, you'll also get to know refreshing white wine varieties such as Minutolo, Verdeca and Bianco d'Alessano on a wine tasting in Puglia.
Being located by the Mediterranean Sea, Puglian cuisine is, of course, strongly tied to Mediterranean cooking. As declared by Angelo Ricci, the father of the director of the Mediterranean Cooking School of Ceglie Messapica, Puglia: "My homeland is a paradise full of products and enogastronomic culture, a perfect place for a cooking school." Fresh ingredients like fruit, vegetables and cheese, grown and produced by passionate local farmers, is the real secret of the success of Puglian cuisine. It has long been known as 'cucina povera' - 'poor cuisine'.
Economically speaking, Puglia has for a long time been one of the poorest corners of Italy and a vast part of the society has always been tied to the land and agriculture in order to survive. In times of famine and poverty, poor local farmers and peasants based their diet on the produce they could get from the land: vegetables, cereals, legumes and fruit; meat was only for the rich.
"My homeland is a paradise full of products and enogastronomic culture, a perfect place for a cooking school".
Despite the positive economic developments which occurred during the second half of the 20th century, Puglian cuisine has remained very tied to its roots and its past, which is why we still speak of 'cucina povera'. People from Puglia still love their land with the same love they have for their ancestors, with the agricultural sector still one of the most important industries in the region.
Organic farming in particular is one of the biggest growing sectors. After Sicily, nowadays Puglia is the second biggest producer of organic food in Italy and provides the rest of Italy – and much of Europe – with a wide range of fruit and vegetables, both wild and cultivated. Furthermore, farming remains one of the most popular hobbies of the Pugliese; many local inhabitants love to spend their free time growing their own produce.
DAY 5: ALBEROBELLO AND CHEESE FARM VISIT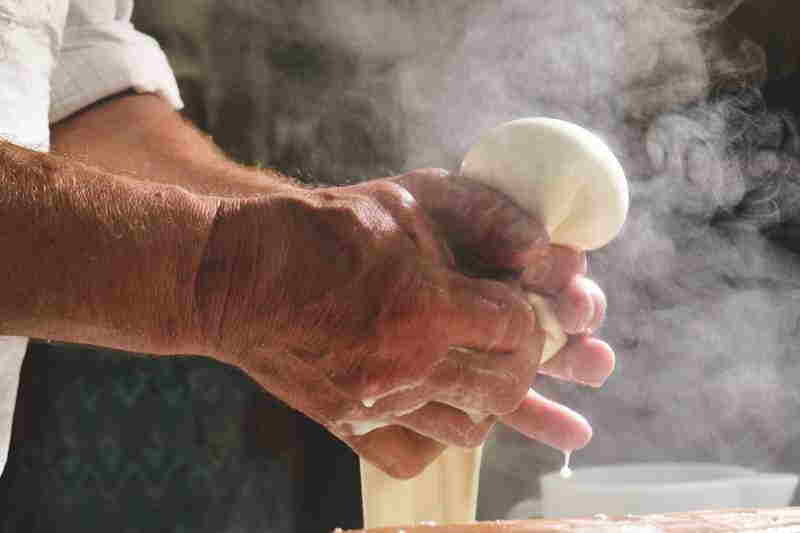 Flavoury burrata and mozzarella cheese
The Puglia region is also famous for its vast production of high quality fresh cheese. In southern Italy you'll find cheese made from sheep's, goat's and cow's milk, all with a unique taste due to the animals' natural feeding of grass and hay. When you visit Puglia, you'll often see cows and sheep roaming free in the rural areas. Puglia is home to a huge quantity of small- and medium-sized farms that guarantee high quality control over the production of cheese that is sold fresh to the local and national markets every day, and it's this lack of massive and intensive industrialisation in the cheese sector which has contributed to the preservation of the quality of the cheese.
Among the most popular fresh cheese is mozzarella, a worldwide famous cheese that is used in cooking, served fresh in salads and used for pizza topping. The creamy and flavourful burrata is the second most famous local cheese and has steadily been gaining a great reputation over the last few years. The list of cheese made in the region is very long: ricotta, canestrato, scamorza, pecorino, giuncata, caciocavallo, smoked scamorza, grotto-aged caciocavallo and many more. If you love cheese, you'll love a cheese tasting in Puglia; you certainly won't be disappointed!
DAY 6: PUGLIESE BREAD AND MATERA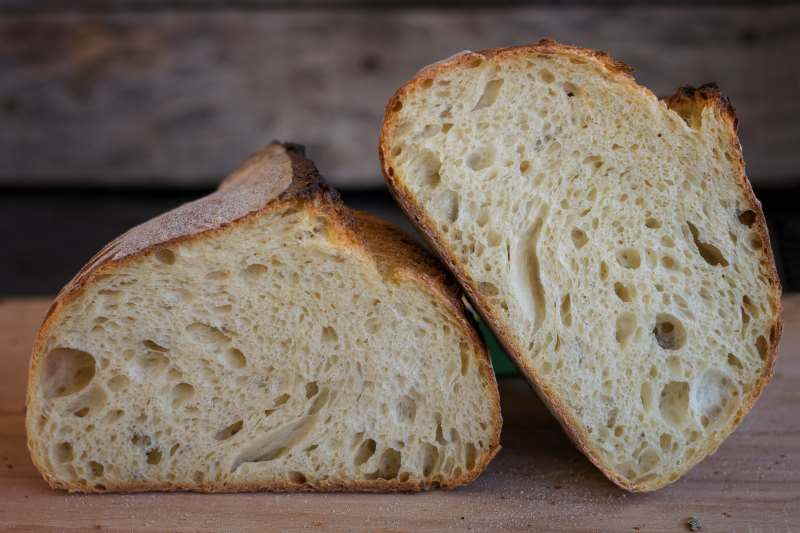 Day itinerary:
Pick up at your accommodation
Guided walking tour of Matera
Bakery visit and bread and focaccia tasting
Drive back to your accommodation
"Pane pugliese" bread in wood fired oven
The culinary traditions of Puglia have been handed down from generation to generation. Pane Puglian bread is one of the best examples of these best-kept recipes over the arc of the years. The main production of this traditional rustic bread is Altamura, a medieval town between Bari and Matera. Probably the best bread in Italy, Altamura bread received its own DOP brand – protected designation of origin, issued by the European Union – in 2003. Altamura bread is produced under very strict conditions. It has to be made with hard durum wheat semolina taken exclusively from fields in the surrounding area of the town of Altamura.
The dough must be mixed with local water and raised with sour dough, then baked in typical 'forni', wood-fired stone ovens. In Altamura, you'll find centuries-old bakeries where bread and focaccia are made and served every day. The big loaves are dense and golden on the inside and crisp and cracking in the crust. The peculiarity of the pane di Altamura is its shelf life; because Puglia is traditionally a poor area of Italy, the pane was deliberately made so it would last during times of food shortages. Even today, the pane can last several days.
Another typical product of the local bakeries is the tasty focaccia, made with hard wheat dough and topped with sliced tomatoes, oregano and, of course, extra virgin olive oil. When in a bakery in Puglia, you'll also see the typical tarallini, small baked rings of wheat eaten as a snack and often paired with wine as an aperitif, and friselle, hard and dry crusty bread to be seasoned with tomatoes, oregano and onions. The friselle in particular is one of the favourite fresh products in summertime here.
DAY 7: PUGLIA COOKING CLASS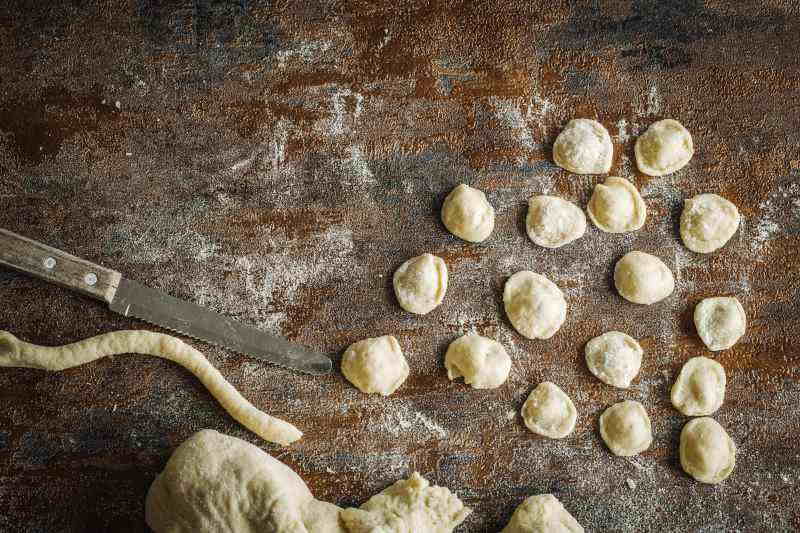 Day itinerary:
Pick up at your accommodation
Exquisite meal
Drive back to your accommodation
Orecchiette and Puglian delicacies
Traditional home-made pasta is popular in the whole of Italy, as well as abroad. If you ask any Italian about Puglian pasta, they will give you the same answer: orecchiette. Orecchiette are ear-shaped shells that Italian mammas love to make by themselves at home for the whole family, especially on Sunday mornings. You can still see this old tradition of pasta-making while walking through the alleyways of Bari Vecchia. During hard times in the past, people couldn't afford to buy pasta themselves from grocery stores, so they used to make home-made pasta almost every day. Due to this difficult economic past, Puglian pasta doesn't include the use of eggs as they were a luxury that not everyone could afford. That is why the pasta here consists simply of flour, salt and water.
Even though nowadays Puglia is facing better economic times, the old tradition is still very much alive and the preferred way of making pasta. When it comes to orecchiette, there are a number of typical combinations that change according to the season and what the land has to offer depending on the month of the year. The most traditional combinations are orecchiette with broccoli rabe, anchovies and garlic during winter, with braciole (rolled stuffed meat) or meatballs, also during winter, and with freshly-made tomato sauce topped with ricotta in the summertime.
But Puglian pasta isn't just restricted to orecchiette. There's also cavatelli, sagne, strascinate and many more besides. As well as pasta, the region is famous for great Parmigiana di Melanzane (eggplant), chicory and fava bean puree, riso patate e cozze (baked rice, potatoes and mussels), and many more delicacies you might want to learn how to make on a cooking class in Puglia.